Assalamualaikum and hei . Wassup . Just not in mood to update any tutorial or freebies right now . Of course you can know about what i'm feeling right now . Just 3 days more for my super dimple dgvfdhbjfsnghk holiday .. Yup , you know what , i'm so so so so boring stay at home without going anywhere and just wake up from my sweet dream . /lol\ and here we go , to my beloved PC , this is my 'thing' that i really need right now . For completely my dgvfdhbjfsnghk holiday .
Actually , it just too upset because i just have 3 days more before school started , and it's will be like ...
-______________- ughhrrrhhh !! please , can i just stay at home and watching korean drama by myself.
But i know i can't do that , isn't ? i'm still a teenager girl and a student that must go to a school for my own future. for my OWN future . So, even i want , or don't want , i still must go to the school . And now , i think again with my simple dimple life ,,,, go to the school by bus and friend with same girls. it just ... sucksss !! totally suck , you know.
Okay , actually , sometimes , i know that i'm not grateful with my life and always sigh , isn't ? you even know it right now when you read this entry. But , i'm not too lazy to go to school . But i just, not ready yet . I just wanna change my life to be better than the days before i'm started my mid year holiday . Sometimes, i just thing , why my life is like this . And why ? , i'm too introvert . Always lonely . Always keep in alone and just wanna be alone . That's the problem .
I always think , to be good like someone else . sometimes , i just can smile and say to my own " why she had a good life like this ? why ? why ? why she had such of this way for her life , can i be like her ? can i ?"
ughhhh !! i know , i'm too over to be a perfect girl in the world . I just can say , why she so perfect in my eye . But i know , i almost forget about one thing . " nobody perfect " .. Even she looks perfect in my eye , but i know, there must something that will be same like me . I just can move on with those quotes that can make me felt appreciated , that make me felt , everybody in these world , same like me . So, just think positive and don't ever ever gave up , don't ever ever lose hope to be success and just think , miracle will happen if i keep praying and keep trying , keep hardworking for my own future.
Sometimes , i know , i'm too shy to talk with others people and i know , that's my attitude .So, even i sigh , even i complain , even i says what other things about my life , it doesn't change if not i'm make a move , and make a choice to change it , am i right ?
These image , makes me conscious , why i must change my life , and don't ever ever sigh ( like this entry ) , and just move on with your own style . Don't ever ever felt that your the awful person in this world.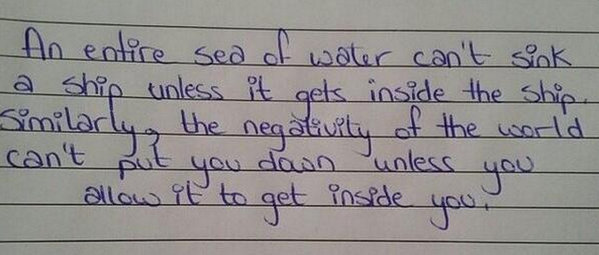 Okay, when i read all of these quotes , i know that i can do it , if i had a positive thinking .So , just thinking positive and you can do it Afrina ! Just do it until get it what you want in your life :')
I think , this is my last entry / post in this blog . I just wanna hiatus . And of course because of the big exam , PT3 . I must prepared for this exam and do my best , and hope my result will make my parents proud of me :) Hope you can praying for me .
# just ignore with my broken english . I'm not American student . I'm just trying to speak in english and improve my grammar slowly . if you think so hardly to read this entry , just translate it from google-translate . simple right ? /lols\ . i'm just a kid that batak / bajet / poyo to speak in english . HAHAA .
Assalamualaikum . :)